the plan
Our journey will take us through Madagascar, Canada, Cuba, South America before crossing the Pacific Ocean to reach New Zealand, Australia, Asia. The final leg will be the trans-siberian (through Mongolia).
It took us more than two years to map out the itinerary and prepare our big trip.
"A goal without a plan is just a wish."Antoine de Saint-Exupery
about us
Michael, Swiss, 35, globetrotter, happy husband, nature lover, web developer
Sylvie, Swiss, 33, globetrotter, photographer, joy of life, adventure freak
After being in London for 3 years and in New York for 2 years we are ready to live our dream and travel the world on a backpack.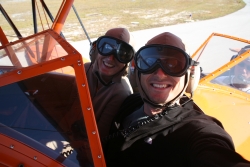 "He who would travel happily must travel light."Antoine de Saint-Exupery